Blackjack Articles And News: MIT team, Card Counting, Blackjack Institute, MIT, Beat The



July 10, 2006.
Blackjack Institute And Former MIT Players Provide Behind The Scenes Look At Blackjack Card Counting.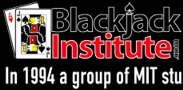 (NAPLES, FL) - From the moment casinos opened their doors, players have searched for a way "to beat the House". However, it wasn't until the publication of the New York Times bestseller Bringing Down The House that the public learned how a bunch of Massachusetts Institute of Technology (MIT team) math jocks legally beat casinos for millions.

On Tuesday, November 21, at 10pm ET/PT, HBO's Real Sports with Bryant Gumbel takes a look at how the MIT blackjack club won millions from casinos across the country. Real Sports correspondent Bernie Goldberg interviewed former MIT players and Blackjack Institute® co-founders Michael Aponte and David Irvine to get the real story behind their card-counting caper. HBO's cameras also caught a Blackjack Institute training session, and went undercover with Aponte and Irvine for a night of "work" at the blackjack tables.

"Bringing Down The House only scratched the surface as far as tales we have to tell," said Aponte, a former manager of the MIT squad. "It was great to sit down with Real Sports and recall some of the untold stories and give some insight into how we operated as a team."

Watching how a highly skilled blackjack team works may be one of the most revealing truths caught by the Real Sports cameras. According to Irvine, "A lot of people think the MIT blackjack club was just a bunch of card-counting kids. But for several years this was how we paid the bills while we were in school. The fact is we treated playing blackjack like a job that took a lot of discipline, hard work and training. Those three things were the keys to our success and are what we teach aspiring blackjack players."

Aponte and Irvine founded the Blackjack Institute and created an instructional program based on the methods and techniques formerly used to train MIT blackjack players. The Blackjack Institute offers an array of products and services that teach players how to win. The most effective and intensive is the one-on-one private mentoring. The Blackjack Institute also offers a training manual and instructional DVD, as well as a home training course for aspiring players who wish to learn on their own. All products and services can be found at www.BlackjackInstitute.com.


Related Articles:
1. New Blackjack Article: 'The MIT Team's $500,000 Weekend' By..

(10/12/2005)


2. The History Of MIT Blackjack Team And Card Counting

(07/07/2004)


3. Blackjack Card Counting - Don't Believe These 3 Common Myths

(26/09/2004)


4. Blackjack Card Counting Made Easy - Article By Stephen Todd

(03/03/2004)



Back to articles Page 4

Online Blackjack Articles And News:
Page 1 Page 2 Page 3 Page 4 Page 5 Page 6 Page 7 List Of Articles

We would recommend for regular online casino players.