Blackjack Articles And News: Bodog, Blackjack Gold, Winners



July 22, 2007.
Tim L. Strikes Blackjack Gold At Bodog Online Casino.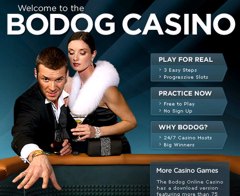 Bodog online casino player Tim L. struck gold playing online blackjack with a whopping $30,700 win in just one day. This weekend brought a lot of money to the pockets of Bodog's casino players as they win dozens of thousand of US dollars playing online blackjack and over 70 other games offerd at the casino.

Player Kyle B. from California earned himself a cool $16,503 jackpot playing blackjack.
Others who got lucky blackjack players included Morgan M. with a healthy $17,030 win, Dihn T. who took home $4,788, Dave K. from Maryland who earned $8.650 and Charles S. who scored $8,250 win.

Blackjack was hot, hot, hot for all these lucky Bodog casino winners. Congratulations! Bodog's online slots were also the talk of the online town during last weekend. The ladies were doing their thing with the slots as Sandra S. earned herself $16,448 on Diamond Dozen, while Texan Tonia C. hit the $12,596 jackpot on Aladdin's Wishes slot machine.

Ann M. also hit the online slot machines big-time playing Outta This World, winning herself $11,198. Tri Card Poker was good to online player Kevin M. of New Jersey, who snaked an even $6,000. Bodog's online video poker was a friend to Dennis J. who earned himself $6,675 playing Double Jackpot Poker. Do you want to be a big winner too? Play these games yourself at Bodog's online casino or other casinos with the same Real Time Gaming software (RTG).


Related Articles:
1. Blackjack Battle And Roulette Race Promotions And Winners In..

(21/08/2010)


2. Top 20 Online Casino Blackjack Winners For January - April 2009

(09/05/2009)


3. New High Streak European Blackjack Gold At Jackpot Factory

(29/01/2008)


4. Jackpot Winners List of Blackack Ballroom Casino And New $500..

(09/06/2007)



Back to articles Page 4

Online Blackjack Articles And News:
Page 1 Page 2 Page 3 Page 4 Page 5 Page 6 Page 7 List Of Articles

We would recommend for regular online casino players.