Blackjack Articles And News: Elite Challenge, Blackjack Tournament, Casino Tropez



October 18, 2006.
New Elite Challenge Blackjack Tournament At Casino Partner Casinos In August.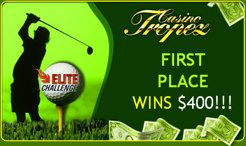 Are you an ace at blackjack? Beat the competition during the PGA Championships and take the Elite Challenge! Play in the Elite Challenge Blackjack Tournament organized by Casino Tropez and Vegas Red.

All weekend, any comps you earn on blackjack will count. The top wagerers will win:
- 1st place wins $400
- 2nd place wins $300
- 3rd place wins $200
- 4th place wins $100
- 5th place wins $50
- 6th-20th places win $20

Elite ChallengeTM offers you the chance to Win Big Prizes by entering regularly scheduled LIVE Casino tournaments. It's the first and the only tournament platform with "real-time" updates, so that you can check your ranking at any time!

Elite Challenge tournaments have real time updates every 30 minutes, so you can monitor your position in the tournament throughout the day and play as much as you want to have the best score.

How close are to winning?
TRACK YOUR POSITION at on the Elite Challenge website (www.elitechallenge.com). Friday, August, 18th 12:00 am to Sunday, August 20th 11:59 pm Casino Time.

This promotion is reserved for members who have received an email invitation. You should wager your bonus 5 times before making a withdrawal. Bonuses will be issued on Monday, August 21st. Live games, Blackjack Switch and Surrender are excluded from this promotion. Bonus/deposit amounts are equivalent in all currencies: $300 = €300 = £300.

Source: Vegas Red Casino


Related Articles:
1. $2,000 Blackjack Mania Tournament Is Held At VIP Online Casino..

(03/05/2006)


2. $5,000 Super Fun 21 Tournament At InterCasino In April

(10/04/2006)


3. Blackjack Cryptologic casino tournaments

(09/05/2004)



Back to articles Page 5

Online Blackjack Articles And News:
Page 1 Page 2 Page 3 Page 4 Page 5 Page 6 Page 7 List Of Articles

We would recommend for regular online casino players.