Blackjack Articles And News: New Games, High Streak, European Blackjack Gold, European



October 29, 2008.
New High Streak European Blackjack Gold At Jackpot Factory.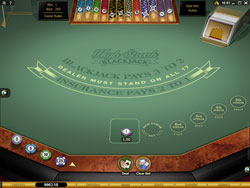 A variant of blackjack, this great table game is based on the European rules but includes an additional side bet known as the High Streak.

Running alongside the normal game, this side bet offers more winnings and gives the game a real edge of excitement not present in some other blackjack variants. To that end, a return of 10:1 on four successive winning blackjack games can really make a serious impact on a blackjack player's credit.

With new European Gold version Blackjack just got better. This enthralling game enhances the refinement of the basic blackjack game by adding the possibility of a side bet known as the High Streak. After a player has achieved a win in the standard game, the High Streak feature is triggered, with the first High Streak win paying 1:1, the second consecutive High Streak win paying 2:1, the third 5:1 and, for those on a major winning streak, the fourth at 10:1! The High Streak facility adds another dimension to an already action-packed and popular game and offers the player a game where there is the option of placing a side bet and therefore winning an additional payout per hand.

You can find this new game at Fortune Lounge online casinos, King Neptunes or Blackjack Ballroom casino.


Related Articles:
1. New 21 Duel Blackjack And Other Games From Casino Europa

(16/10/2007)


2. Brand New Stravaganza And Baccarat Games Have Been Added To..

(24/06/2007)


3. VEGAS SINGLE DECK BLACKJACK - A new Microgaming's single deck..

(13/12/2006)


4. New Gold Series Multi-Hand Blackjack Games Have Been Released..

(01/12/2006)



Back to articles Page 3

Online Blackjack Articles And News:
Page 1 Page 2 Page 3 Page 4 Page 5 Page 6 Page 7 List Of Articles

We would recommend for regular online casino players.