Blackjack Articles And News: Blackjack Tournament, Super Fun 21, InterCasino



October 10, 2006.
$5,000 Super Fun 21 Tournament At InterCasino In April.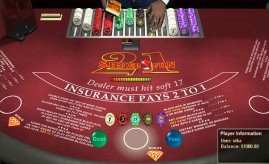 Play InterCasino's Superfun 21 tournament this April and win your share of $5,000 prize pool!

Play your way to the massive $3,000 first prize - all for just twenty five bucks (tournament fee is $25)! There is a second prize of $1,000 and ten third prizes of $100 each for the top 12 Super Fun 21 players in April.

For the $25 entry fee, you have 90 minutes to play the game and to turn your $1,000 worth of tournament chips into as much as you can. Remember that you can stop playing at any time during your 1,5 hours if you are satisfied with your results. Strictly one entry per person per tournament is permitted, follow tournament rules.

InterCasino offers Single & Multi-Player Super Fun 21 versions with betting limits from $5 up to $100. Multi Player Super Fun 21 version has Bonus Side-bet Feature that allows placing a side bet at the beginning of each round of play. Fixed $1 bonus side bet is paid at 300:1. It's paid when a player's first two dealt cards consist of blackjack in Diamonds only. This does not include hands that are split.

Plus InterCasino has $5 Classic Slots and Multihand Video Poker Quickfire Tournaments where players have the chance to win a massive prize pot. All players at InterCasino can claim 100% deposit match bonuses every month, up to $100 free in April.

Throughout April, famous InterCasino manager, Ryan Hartley, will visit the Multi-Player tables to give away $50 to the players he meets and says 'Hi' to. If you meet him at any of InterCasino's Blackjack tables, you will then get the chance to double your prize by challenging him to a game of Blackjack! Ryan Hartley will challenge you to one hand of Blackjack. If you manage to win the game you'll win extra $100. However if you get dealt a natural Blackjack, he'll double it again to $200.

Source: InterCasino


Related Articles:
1. Blackjack Cryptologic casino tournaments

(09/05/2004)


2. Blackjack Challenge? Play At InterCasino To Win Free Cash In..

(05/11/2005)


3. Win A Share Of $4,250 Prizes In 'Blackjack Attack' Tournament..

(21/10/2009)


4. Best Online Blackjack Tournaments At Absolute Poker Room -..

(18/07/2009)



Back to articles Page 5

Online Blackjack Articles And News:
Page 1 Page 2 Page 3 Page 4 Page 5 Page 6 Page 7 List Of Articles

We would recommend for regular online casino players.