Blackjack Articles And News: Spanish Blackjack, Gold Series, New Games, Microgaming



October 4, 2006.
Spanish Thrills And Gold Series In Latest Microgaming Blackjack Releases.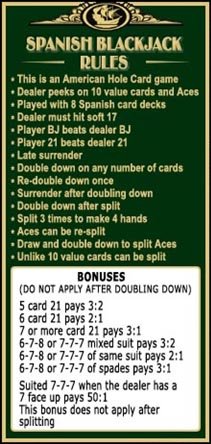 Blackjack games are at the heart of Microgaming's latest set of game releases for August. By popular demand comes SPANISH 21 Multi-Hand Blackjack on the acclaimed Viper software platform, which makes the whole online gaming experience more enjoyable and, with a little luck, more rewarding for players. Full colour graphics and logically placed controls make for a fast-paced, full on time at the table.

The new, fast paced, multi-hand Spanish Blackjack offers you a good chance to win mucho dinero with skill and good fortune. You will be dancing the flamenco when you get to play 5 hands at a time with 8 Spanish card decks (48 cards). The Spanish deck is just like a normal deck (52 cards) of cards, but they are missing all four 10 cards. Jacks, Queens, and Kings are still in the deck. This game is for everyone. Beginners and advanced players alike will enjoy the speed and excitement as well as range of wagering amounts, from 1 to 200 coins - and don't forget the playout bonus when you reach 21.

Players are offered the Insurance option where the Dealer is holding an Ace, and once the Dealer has checked for Blackjack, the Insurance bet is resolved. This is also a Hole Card Game: when the Dealer has a ten or an Ace card showing, he checks for Blackjack. If the Dealer has Blackjack the game is over.

For those looking for the ultimate online blackjack gaming thrill, look no further than Microgaming's GOLD SERIES. Again on Viper platform, it takes online blackjack gambling to new levels of smooth and speedy play, beautifully executed graphics, digital quality sound effects and music, together with valuable player aids, controls and tools in the software.



This blackjack gold series (the first monthly release with two more on the way) is nothing but gold with the improved table perspective, precise graphics, animated chip selector, enlarged chip tray, rollover rules and ambient background music. Get a realistic player experience at any of the following blackjack tables:

- Atlantic City Blackjack Gold
- Vegas Strip Blackjack Gold
- Vegas Downtown Blackjack Gold
- European Blackjack Gold (2 deck)

Once play begins, the appearance of articulate icons, card flips and chip movements will entertain and impress players and give the skilled a real chance to win big. All the rules for this game-style are ready to hand, and the player interactive controls are clear and well positioned. There is a chip range from 1 to 200 credits on all of these games and unlimited chip stacks can be used. The chip pile resizes to make up the current bet with the least possible number of chips.

You can find new games at Jackpot Factory casinos or other Microgaming online casinos.


Related Articles:
1. New Multi-Hand Bonus Blackjack Version Is Now Available At..

(01/02/2006)


2. Latest Multi-Hand Atlantic City Blackjack Game In December's..

(15/12/2005)


3. Experience Speed And Excitement In New Multi-Hand Vegas Strip..

(29/11/2005)


4. New Vegas Craps And Casino War Table Games Are Released By..

(03/06/2005)



Back to articles Page 5

Online Blackjack Articles And News:
Page 1 Page 2 Page 3 Page 4 Page 5 Page 6 Page 7 List Of Articles

We would recommend for regular online casino players.