Blackjack Articles And News: Stravaganza, New Games, Baccarat, Playtech



July 24, 2007.
Brand New Stravaganza And Baccarat Games Have Been Added To Playtech Casinos.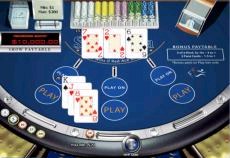 Top Playtech online casinos have recently added a new card game called Stravaganza and an excellent new Baccarat game version with a progressive jackpot. VIP Baccarat has been adapted from the popular land-based games in Macau, offering interesting game innovations. The new mysterious card game is a real alternative to blackjack lovers who also wants to win a big jackpot.

What's Stravaganza?

Stravaganza is a card game variant that is played with 5 decks of cards. The object of the game is to have a point total higher than the dealer has. Card values are similar to Blackjack with the exception of Ace: number cards count at face value, picture cards are worth 10, and the Ace is worth 1. However, unlike Blackjack, player can't bust in Stravaganza: the higher your hand value, the better.

Depending on your card total, you can choose to:
Play on - place a second bet of the same size as the first, get a third card, and keep playing. You can always do this.
Sit - keep playing with two cards and your original bet. You can do this if your point total is 10 or more.
Money back - get your full bet back, and end the game round. You can do this if your point total is 5 or less.
Rescue bet - get half of your bet back, and end the round. You can do this if your point total is between 6 and 9.