Blackjack Articles And News: Blackjack Mania, VIP Casino, Blackjack Tournament



October 3, 2006.
$2,000 Blackjack Mania Tournament Is Held At VIP Online Casino This Month.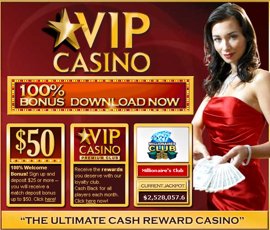 This May VIP online casino are giving all Blackjack lovers the opportunity to compete against each other for the chance to take home part of an incredible $2,000 prize draw just for playing your favorite game.

Multi-player Blackjack tournament runs from the 1st - 30th May and you will be given a whopping $1,000 FREE chips to play. That's not a real cash but a bankroll for you to keep playing and winning as much as you can. You have 60 minutes and unlimited sessions to win one of 7 prizes and with a buy in of only a ten bucks ($10) why not see if you have the Blackjack!

Prize fund will be shared as follows:
First Prize: $1000
Second Prize: $500
Third Prizes: 5x$100.

Play Multi Player Blackjack Tournament called "Blackjack Mania".

How to join
New players can join at any time during the month of May. Select "Game menu" - "Tournaments" - "Blackjack Mania" from the left hand menu in your casino software. Your tournament fee ($10) will automatically be deducted from your ECash account upon sing-up to this blackjack tournament.

Please note that play outside the tournament does not count towards your play in the tornament. If you exit the tournament, please ensure that when you wish to return to play in the Blackjack Mania tournament, you click the tournament button again. You have complete control over your time allotment. You do not have to play for a full 60 minutes at any one time. If at any time during play, you are happy with your winnings, you can stop without using your remaining time.

The winnings accounts will automatically be credited within an hour of the tournament finishing (on the 1st of June).

VIP online casino offers unique Cash Reward program for its players. You can earn a refund of up to $10,000 (10%) if you loose or a reward of up to $2,500 (1%) on your winnings. Moreover, every player can collect 100% deposit match bonus every month, claim your 100% bonus up to $50 free in May.

Source: VIP Casino


Related Articles:
1. $5,000 Super Fun 21 Tournament At InterCasino In April

(10/04/2006)


2. Blackjack Cryptologic casino tournaments

(09/05/2004)


3. Win A Share Of $4,250 Prizes In 'Blackjack Attack' Tournament..

(21/10/2009)


4. Best Online Blackjack Tournaments At Absolute Poker Room -..

(18/07/2009)



Back to articles Page 5

Online Blackjack Articles And News:
Page 1 Page 2 Page 3 Page 4 Page 5 Page 6 Page 7 List Of Articles

We would recommend for regular online casino players.