Blackjack Articles And News: Where's Ryan, Ryan Hartley, Challenge, InterCasino



July 9, 2006.
Where's Ryan? Challenge Ryan Hartley 1-on-1 For Cash At InterCasino In December.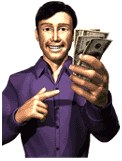 Throughout December, the famous manager at InterCasino, Ryan Hartley, will visit the Multi-Player tables to give away a $50 spot prize to the players he meets and who say 'Hi' to him.

Look out for InterCasino manager and player with nick RyanH for a chance to win extra cash. If you meet Ryan at any of InterCasino's Blackjack or awesome new Texas Hold'em Bonus Poker tables, you will get the chance to double your prize by challenging him to a game!

Ryan will challenge you to one hand. If you manage to beat his hand you'll win $100. However, if you get dealt a natural Blackjack or make a '3 of a kind' or better playing Texas Hold'em Bonus Poker, he'll double it again to $200 free!

To claim your prize all you need to do is email Ryan at ryanh@intercasino.com and state the claim code he gave you at the table, your user name and account number. Remember, only one prize per person can be won per month.

RyanH will announce at the table both the prize and the actions the players must take in order to successfully claim. Prize must be accepted as awarded. You must be 21 years of age or older to enter the challenge. Void where prohibited by law. Please note players from China (as well as from USA) are excluded from this promotion. In order to receive this bonus, "Where's Ryan?" promotion winners must wager $100 or more in the Casino on the day of meeting Ryan.

InterCasino offers 17 new games at its new Version X of online casino software. Play new exciting Frightmare and Marvel Hero jackpot video slots, and several new power power (50 play and 100 play versions) games. ALL players can claim 100% match bonus of up to $100 free every month. Unfortunately, InterCasino does not accept US players at this time. Players from all around the World are welcome.

Source: InterCasino


Related Articles:
1. New Elite Challenge Blackjack Tournament At Casino Partner..

(18/08/2006)


2. $5,000 Super Fun 21 Tournament At InterCasino In April

(10/04/2006)


3. Blackjack Challenge? Play At InterCasino To Win Free Cash In..

(05/11/2005)



Back to articles Page 4

Online Blackjack Articles And News:
Page 1 Page 2 Page 3 Page 4 Page 5 Page 6 Page 7 List Of Articles

We would recommend for regular online casino players.