Double Exposure BLACKJACK
Double Exposure Microgaming Blackjack Rules & Strategy Card - How To Play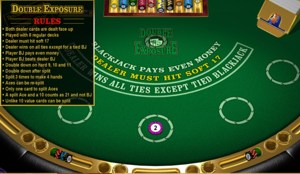 Blackjack is one of the most popular and well known casino table game. Blackjack is a game of skill and chance between you and the Dealer. Microgaming casinos offer Double Exposure Blackjack version played with eight standard decks of 52 playing cards that are shuffled before each game / hand. In Double Exposure Blackjack, the Dealer both cards are dealt face up.

How to play Double Exposure Blackjack
The object of Blackjack is to beat the Dealer by either obtaining the highest possible hand without exceeding 21, or by the Dealer's hand going bust. In this version of Blackjack (Double Exposure), you can only bet one hand at a time. All face cards (Kings, Queens and Jacks) have a value of ten (10) and the Aces can have a value of one or eleven. Please refer to the basic blackjack rules to learn more about the game terms and rules.

General Double Exposure Blackjack Rules in Brief:
Both Dealer cards are dealt face up
Eight 52 card decks
Dealer must hit soft 17
You may double after a split
You may only double on 9 to 11
You may split 3 times to make 4 hards
Dealer wins on all ties except on a natural Blackjack
Player may split and re-split Aces
No Insurance is allowed

Splitting Rules
You can split 2 cards that have the same denomination, such as a Q-10, or two Fives. Your hand is divided into 2 separate hands and a bet equal to your original bet is placed on the second hand. If you split a pair of Aces and then draw a card with a value of 10, this is not considered a Blackjack, it has a value of 21. You can split Aces - each Ace is dealt one more card and the hand automatically stands. You can split up to 3 times per game and get up to 4 separate hands.

Double Down Rules
You can double down if the value of your first 2 cards is 9, 10 or 11. The Double Down bet is equal to your original bet. Double Down after a Split is allowed.

AutoPlay
The AutoPlay option enables you to automatically play a selected number of consecutive hands without clicking buttons. AutoPlay uses the advanced Blackjack Strategy Table that can be modified for your needs.

Statistics
Game Statistics (Stats button) enable you to view information about your current game session: the number of hands played, the winning combinations, the percentage of winning combinations, 3 highest wins, Dealer's Final Hand stats, Starting Dealer's & Player's Hand Comparisons and more.

Double Exposure Blackjack Strategy Card
In this game the players initially have advantage with ability to see all cards but the casinos changed other rules in favor of the dealer. Double Exposure's house edge is greater then conventional blackjack, however, it still considers as one of the best games in the casino if played properly.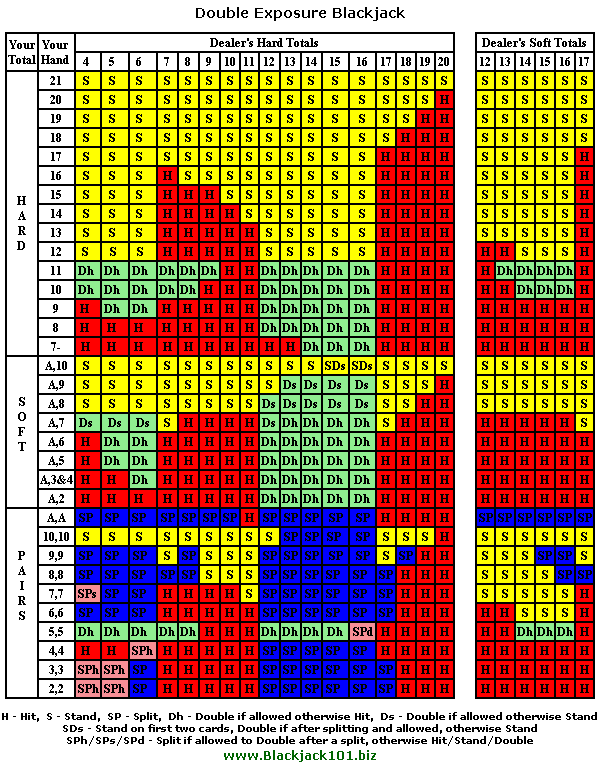 Blackjack strategy is printed as table with the dealer's up card the first row and player's two card hand the second column. The entries in the table tell you when you should Hit, Stand, Split or Double Down depending on the different combinations of dealer and player's hands. Optimal Double Exposure Blackjack strategy tables for Microgaming online casinos games are shown above for hard totals, soft totals and player's pairs, and Dealers hard or soft totals.


Today Microgaming casinos offers up to 10 different versions of Blackjack including: Atlantic City, Vegas Downtown, Vegas Strip, Double Exposure, European, Spanish Blackjack, Multi-hand and Triple Sevens progressive blackjack (follow left bar menu links to find rules and strategy cards for corresponding bj games).