Vegas Single Deck Blackjack
Vegas Single Deck Blackjack One Hand (Microgaming) Rules & Strategy Card - How To Play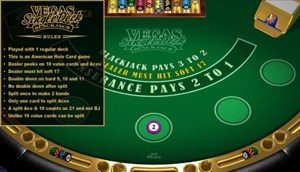 Blackjack is a popular game of skill and chance between a player and the Dealer. Microgaming casinos offer 2 Vegas Single Deck Blackjack versions including this single hand game that played with one standard deck of 52 cards that are shuffled before each game. You can also play the new Vegas Single Deck Gold Series game that has the same rules and strategy but offers extra playing features, more animations, better graphics and sound effects, etc.

Vegas Single Deck Blackjack is an American Hole Card game. The Dealer checks for a Blackjack when he is dealt a 10 or an Ace. If the Dealer has a Blackjack, you lose and the game is over. If you win with a Blackjack you are paid out at odds of 3:2 on your original bet. Blackjack is when your hand contains an Ace and a card with a value of 10.

How to play Vegas Single Deck Blackjack

The object of Blackjack is to beat the Dealer by either obtaining the highest possible hand without exceeding 21, or by the Dealer's hand going bust. In this version of Blackjack (Vegas Single Deck), you can only bet one hand at a time. All face cards (Kings, Queens and Jacks) have a value of ten (10) and the Aces can have a value of 1 or 11, whichever is better. The Dealer is dealt 2 cards, one face-down and one face-up. Plus 2 cards for the player. A player then may draw up to 9 additional cards to make a hand of eleven cards, provided the value of his/her hand does not exceed the value of 21. Please refer to the basic blackjack rules to learn more about general terms and game rules.

General Vegas Single Deck Rules in Brief:
1 card deck
Dealer must hit on soft 17
No double down after a split
Double down on first 2 cards with a value of 9, 10 or 11
Split only once
Split Aces only once
Dealer peeks for blackjack on 10 value cards & Aces
One bet position

Splitting Rules
You can Split 2 cards that have the same value, such as a King and a Ten, or two Sevens. Your hand is divided into 2 separate hands and a bet equal to your original bet is placed on the second hand. If you Split a pair of Aces and then draw a card with a value of 10, this is not considered as Blackjack, just a hand with a value of 21. You can only split once per game. If you Split Aces, each Ace is dealt one card, and the hands automatically Stand. Unlike 10 value cards can be split.

Double Down Rules
Players can Double Down after receiving their first 2 cards. The Double Down bet is equal to your original bet. Players can not double down after a Split.

Insurance is available but it is not recommended in Vegas Single Deck blackjack game and most other games if you want to get the highest odds possible. The house edge on insurance bet here is about 5.9%.

Vegas Single Deck Blackjack Strategy Card

The following strategy will help you keeping house edge at about 0.35%. With only one deck you can use card counting and slightly increase your performance even more.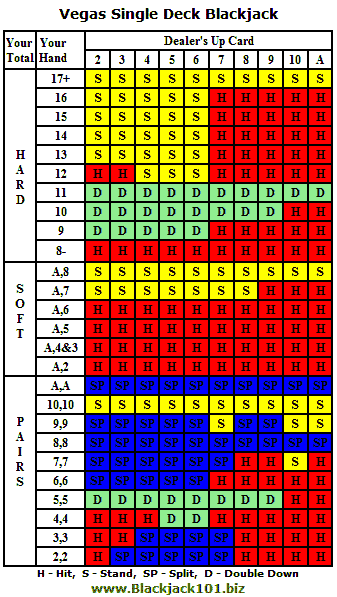 The Vegas Strip blackjack strategy is created through computer simulations which perform a complete combinatorial analysis. The computer generates thousands of hands for each Blackjack situation possible and statistically determines which action (Hitting, Splitting, Doubling Down or Standing) best favours the player.

Players who are looking for a single deck blackjack games could also play Classic Blackjack Gold game at Microgaming casinos. The game features one deck and achievable house edge of just 0.13% with the right strategy, plus card counting can decrease this figure even more...

Today Microgaming casinos offers over 25 different single and multi-hand versions of Blackjack including: Vegas Strip, Vegas Downtown, Atlantic City Blackjack, European, Spanish, Multi-Hand, Double Exposure and Triple Sevens blackjack games (see the complete list on the left bar menu). Try also Gold Series games with the same names and rules.