EUROPEAN MULTI HAND BLACKJACK
Microgaming Multi Hand European Blackjack Game Rules & Strategy Card - How To Play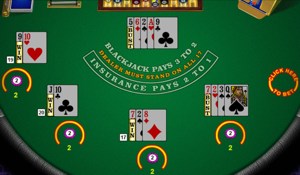 Microgaming casinos offer up to 18 Multi Hand blackjack games. Here we review European Multi-hand Blackjack version that is played with five standard decks of 52 playing cards that are shuffled before each game. In Multi-hand Blackjack, you can bet up to 5 hands at a time. The goal of blackjack is to beat the Dealer's hand by either getting a higher hand, without exceeding 21, or by the Dealer's hand going bust.

How To Play Multi Hand Blackjack

All picture cards (Kings, Queens and Jacks) have a value of ten (10) and the Aces can have a value of one or eleven. Blackjack is when your hand contains an Ace and a card with a value of 10. Please refer to the basic blackjack rules to learn more about the game terms and general rules.

Rules in Brief:
5 card decks
Dealer stands on soft 17
No doubling after splitting
You may only double on 9 to 11
No re-splitting
Player may draw to split Aces
No surrender is allowed
Player loses total amout bet against dealer's Blackjack (Full no peek)
Bet up to 5 hands at a time

Splitting Rules
You can Split 2 cards that have the same Denomination, such as two Kings or two Fives. Your hand is divided into two separate hands and a bet equal to your normal bet is placed on the second hand. If you split a pair of Aces and then draw a card with a denomination of 10, this is not Blackjack, it's a hand with a value of 21. You can Split only once per each of up to 5 hands.

Double Down Rules
Double Down option is available when your hand has a value of 9, 10 or 11. You are dealt one card for an extra bet and your hand automatically Stands. No Double Down after a Split is allowed. You can Double Down once per hand.

Multi Hand European Blackjack Strategy Card

Insurance is not recommended in Multi Hand Blackjack game. Under the rules Insurance is not resolved until the end of a hand. The house edge for European multihand blackjack is about 0.57%. Follow the strategy shown below to have the best odds playing this blackjack game. The strategy is created through intensive computer simulations which perform a complete combinatorial analysis of thousands of hands for each Blackjack situation possible.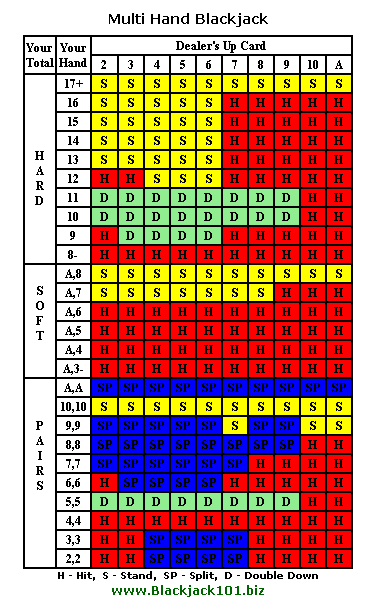 Basic strategy is printed as table with the dealer's up card the first row and player's two card combination the first column. The entries in the table tell you what to do (Hit, Stand, Double Down or Split) with the different combinations of dealer's and player's hands. Optimal Multi-Hand Blackjack strategy tables for Microgaming online casinos' rules are shown above for hard totals, soft totals, and pairs along with a legend.

With multi-hand version you can just win more or lose more in each round, but the rate of winning and losing stays pretty much the same with regular single-hand blackjack. Only the excitement is multiplied!

Today most of the Microgaming powered online casinos offers over 25 different variations of Blackjack games including: Vegas Downtown, Vegas Strip, Atlantic City Blackjack, European, Spanish, Double Exposure BJ, Gold Series variations and Triple 7's progressive blackjack (follow left bar menu links to find rules and strategies for corresponding game versions). You can also play Multi-Hand Classic Blackjack Gold, Multi-Hand Atlantic City Blackjack, Multi-Hand Big 5 Blackjack Gold, Multi-Hand Vegas Strip blackjack, and more games.