PROGRESSIVE BLACKJACK - CRYPTOLOGIC
Progressive Blackjack Rules & Strategy - How To Play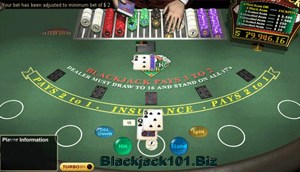 Blackjack is a game of skill and luck between you and the Dealer. CryptoLogic online casinos offer Progressive Blackjack game version that is played with 8 standard decks of 52 cards that are shuffled after each hand. Progressive Plackjack has a side bet (or bonus bet) that makes you eligible for additional payouts, or the growing progressive Jackpot.


Progressive Blackjack is programmed according to Atlantic City Blackjack rules (authority: New Jersey Casino Control Commission) with the following exceptions: the cards are shuffled after each hand, Pairs may not be re-split, and players may not draw additional cards on split Aces.

Summary Of Rules:

Eight 52-card decks are used
The deck is re-shuffled after each hand
The Dealer must stand on ALL 17's
Doubling after splitting allowed
Only one additional card allowed on each Ace when splitting a Pair of Aces
No re-splitting of cards allowed
No surrender
To qualify for the Progressive Jackpot you need to place a $1 bonus bet. You do this by clicking on the flashing chip holder. You may place a Bonus bet prior to playing your hand as long as the lights surrounding the chip holder are flashing. The size of the Jackpot starts at $/£/€50,000 and increases with every bet.

How to play Progressive Blackjack
You begin a hand of Progressive Blackjack by placing a bet on the table as described above. You will then receive two cards face up. The dealer will receive one card face up and one face down. Once you have been dealt your two cards (and based on the nature of these cards) you can Hit (request another card), Stand (the hand as it stands will be judged against the dealers), Split (If you have two cards of the same denomination, you can split your cards into two hands and play each hand separately. Your original bet will be duplicated for the new hand. Each hand will be played out as usual except when splitting Aces, where only one additional card per hand is dealt.) or Double Down (you will get exactly one more card, your turn will end, and your bet will be doubled).
Whenever the dealer's up-card is an Ace, the player has an option of taking insurance if he/she believes that the dealer's down-card is a 10. If the dealer does have a 10 ranking card, the player is immediately paid 2-to-1 on the insurance bet, but the original wager is lost unless the player too has a Progressive Blackjack and pushes with the dealer.
Progressive Blackjack Strategy
The basic strategy for progressive blackjack version is very similar to the strategy of standard 8 decks Atlantic City Cryptologic blackjack where the house edge is about 0.49%. The house edge for a side bet is about 55% at the time the jackpot is reset ($50,000) and decreases with the grows of jackpot amount. When the jackpot stands at approximately $200,000, the odds are in your favor i.e. the house edge is negative! That's the best time to play and win big... You can play Amaya (Cryptologic) blackjack and other games for practice or for real money at Magic Red Casino



Microgaming Progressive Blackjack
Microgaming online casinos offer their own version of the progressive jackpot blackjack game - Triple 7's - see the rules and optimal strategy card for getting the edge in this exciting BJ variant. Reviews, rules and strategies for other 8 blackjack variations of Microgaming casino games can be seen by following the links on the left menu.