Spanish 21 Multi-Hand Blackjack Gold - Microgaming
Spanish 21 Multi-Hand Blackjack Gold Series Game Rules & Strategy Card - How To Play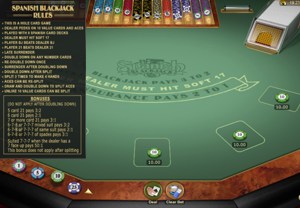 Blackjack is one of the most popular and well known casino card game that has miltiple variations. Microgaming casinos offer several Spanish game variants including Spanish 21 Multi-Hand Blackjack Gold Series game that is played with 8 unique decks of 48 playing cards made up of the standard 52 cards, less the four 10 (Ten) cards. Each deck is shuffled before every game.

Although removing 10s from the decks moves the odds in favor of the dealer, various other favorable rules compensate the lose and made Spanish 21 to be the game with ones of the best odds for blackjack. A player's 21 always wins, i.e. players Blackjack beats the dealer's Blackjack. In Multi-hand Spanish Blackjack Gold you can bet on up to 5 hands at a time. There are Bonus payouts that are available for Bonus 21 hand combinations. Players will also love Late Surrender and Double Down Rescue options.

The player-friendly Spanish Multi-Hand Blackjack Gold rules allow you to win more money:
A player's blackjack pays 3 to 2 AND always wins. In other blackjack versions, this would be a push, or a tie.
A player's 21 beats a dealer's 21. No push here too.
Surrender is allowed. You can save half of your original bet instead of losing your entire bet.
A player may double down on any number of cards. In most other blackjack games, you may double down only on your first 2 cards.
A player may re-double down. It gives you a chance to win more money with a strong hand.
You may surrender after doubling down. Sometimes you can surrender your original bet rather than risk the loss of your doubled bet.
You can split 3 times to make 4 hands, and double down after a split. Spanish Multi-Hand Blackjack Gold has some of the most liberal splitting rules among blackjack games.
Unlike 10-value cards can be split.
Aces can be re-split, plus you can draw and double down to split your Aces.

Bonus 21 Hands & Payouts
The secial Bonus 21 hand combinations will bring you additional Bonus 21 payout. Winning Bonus 21 hand combination in Multi-hand Spanish Blackjack Gold game pay out as follows:
3 Sevens of the same suit, if the Dealer has a Seven face-up - 50:1
Any five card 21 - 3:2
Six, Seven and Eight of a mixed suit - 3:2
3 Sevens of a mixed suit - 3:2
Any seven card or more 21 - 3:1
Six, Seven and Eight of Spades - 3:1
3 Sevens of Spades - 3:1
Any six card 21 - 2:1
Six, Seven and Eight of the same suit - 2:1
3 Sevens of the same suit - 2:1
Example of Payout Formula: 3 / 2 x original credits bet + original credits bet = win amount. Suppose, you bet 10 credits and you are dealt 3 Sevens of Hearts. You win 15 credits plus your original bet amount, e.g. 25 credits.

How to play Spanish Multi-Hand Blackjack Gold

The object of Blackjack is to beat the Dealer by either obtaining the highest possible hand (without exceeding 21), or by making the Dealer's hand bust. In this version of Blackjack (Spanish), you can only bet one hand at a time. All face cards (i.e. Kings, Queens and Jacks) have a value of 10 and the Aces can have a value of either 1 or 11. Please refer to the basic blackjack rules to learn more about the general game terms and rules.

Spanish Multi-Hand Blackjack Gold Rules in Brief:
8 card decks without 10s
Player 21 beats any dealer's hand
Dealer hits on soft 17
You may double down after a split
You may double on any number of cards
You may surrender half of total bet after doubling down
A five-card 21 pays 3:2, a six-card 21 pays 2:1, a seven+ card 21 pays 3:1
A 6-7-8 or 7-7-7 of mixed suits pays 3:2, of the same suit pays 2:1, and of Spades - 3:1

Customizable Strategy Table
The Blackjack Advanced Strategy table is used during AutoPlay mode and enables you to define your personal game strategy (Strategy button). The Strategy table is only available in Expert Mode and allows you to create your own strategy. The Default strategy is a basic BJ strategy table. Modify the strategy table using our Strategy Card below for the best odds.

Gold Series Games
The Blackjack Gold Series represents a range of the ultimate online blackjack games. The series takes Internet blackjack gambling to new levels in terms of smooth and speedy play, realistic game graphics, digital quality sound and the valuable player aids, controls and tools resident in the Microgaming's Viper advanced online gaming software platform, which makes the whole online gaming experience more enjoyable and, with a little luck, more rewarding for players. Full colour graphics and logically placed controls make for a fast-paced, full on time at the table.

The new, fast paced, multi-hand Spanish Blackjack offers you a good chance to win big with skill and good fortune. This game is for everyone: beginners and advanced players alike will enjoy the speed and excitement as well as range of bet amounts, from 1 to 200 coins - and don't forget the bonus playout when you reach 21.

Insurance
Players are offered the Insurance option where the Dealer is holding an Ace, and once the Dealer has checked for Blackjack, the Insurance bet is resolved. This is also a Hole Card Game: when the Dealer has a 10 or an Ace card face up, he checks for Blackjack. If the Dealer has Blackjack the game is over. Insurance is not recommended in Spanish blackjack.

Spanish Multi-Hand Blackjack Gold Strategy Card

The strategy shown below will help you decrease the house edge up to about 0.38% or even a bit less with card counting. Note: this strategy card was developed for the regular Spanish 21 blackjack game but it counts for Bonus 21 payouts - see *, x, y & z notes to take advantage of the Bonus 21 payoffs. The strategy was developed by Jeff Wu - professor in ISyE and the Coca-Cola Chair in Engineering Statistics.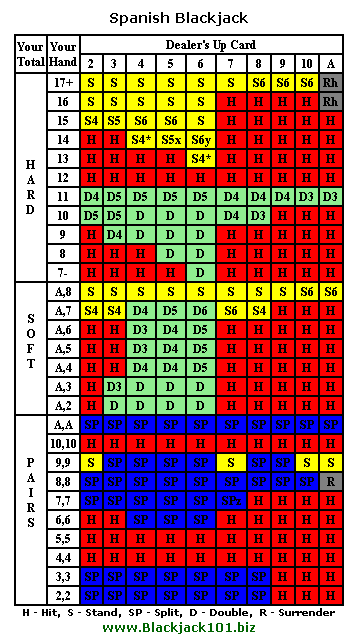 Rh - Surrender on first two cards, otherwise hit
S3 (4,5,6) - Stand, unless hand is composed of 3 (4,5,6) or more cards then hit
D3 (4,5,6) - Double, unless your hand is composed of 3 (4,5,6) or more cards then hit
* - Hit if any 6-7-8 bonus possible
x - Hit if suited or spaded 6-7-8 bonus is possible
y - Hit if spaded 6-7-8 bonus is possible
z - Hit if two sevens are suited (for possible super bonus)

Note: the strategy requires you to Hit when you have 16 or even 17 with three or more cards against the Dealer's Ace that looks very strange. However, everything is correct and you need to follow it exactly if you want to have the best odds.

The absence of the 10-cards from the Spanish blackjack decks, and the special Spanish blackjack rules and bonuses for players, have profound effects on the optimal Spanish blackjack strategy. As a result, a standard blackjack basic strategy chart would not be relevant to this Spanish blackjack version. Use the special Spanish blackjack strategy charts above to get the best odds.

Today most of the Microgaming online casinos offers over 30 different versions of Blackjack including: Atlantic City Blackjack, European black jack, Spanish 21, Multi-Hand, Double Exposure, Perfect Pairs European Blackjack Gold Multi-Hand, Vegas Strip, Vegas Downtown and Triple Sevens progressive blackjack (the complete list of the games can be seen on the left or top bar menu).


We recommend playing Spanish 21 Blackjack at Spin Casino (click for your $1,000 welcome bonus).