PONTOON REVIEW
Pontoon (Playtech) Rules & Strategy Card - How To Play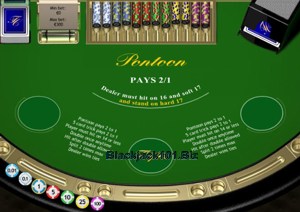 Playtech's Pontoon is a game much like Blackjack, played with eight decks of 52 cards. The objective of the game is to get a hand that's as close to 21 as possible, without going over. You and the dealer are dealt 2 cards each. Dealer's cards remain face down. The dealer checks his cards for the winning Pontoon hand. You have the choice of hitting, standing (only if your hand's total is 15 or more), doubling or splitting (if your 2 cards match). Once you are happy with your hand, the dealer reveals his and hits or stands according to the house rules.
If there is a push, the dealer wins. The dealer must hit on a soft 17. Card values are just like Blackjack: Aces count as either 1 or 11, Jacks, Queens and Kings cards as 10, and number cards as their face value.
Pontoon Rules in Brief:
8 card decks
Dealer Hits on Soft 17
Pontoon (Blackjack) pays 2:1
You cannot Stand until your hand is at least 15.
You may split the same-value cards
You may double down and draw any number of cards
Dealer wins all hands that result in a Push
Dealer checks for Pontoon
This is the American Pontoon, in which the player gets paid 2 : 1 for a 5-card winning hand. It's not Australian Pontoon game type, that is also called "Spanish 21" in the USA. The differences between Pontoon and Blackjack are:
There are 2 hands that beat a regular 21-value hand: Pontoon (an Ace and a 10-value card) and Five Card Trick (when the player receives 5 cards without busting, no matter what the total value of the hand is). Both hands pay 2 : 1.
21-value hand (3 or 4 cards totalling 21) beats every other hand except Pontoon and Five Card Trick and pays even money.
Both the dealer's cards are face down until the player stands/busts.
There is no insurance option.
In case of a tie (push), the dealer wins.
At the beginning of a game round, the dealer will check his cards. If the dealer has a Pontoon, the dealer's two cards will be turned over and the player will lose his/her bet.
The player cannot stand until they have a hand of at least 15.
The player can draw as many cards as they like after they double.
The player can only split cards with equal rank. For example you can split two Sevens or a Queen and a Jack.
If you get an Ace and a 10 or a picture card in your split hand, it counts as Pontoon.
Dealer Rules
The dealer must hit on a soft 17 (2 to 4 cards totalling 17, if one of them is an Ace) or lower. The dealer must stand on a hard 17 (2 to 4 cards totalling at least 17 without Aces) or higher.
Splitting Rules
If your first 2 cards have the same value, you may split them into 2 separate hands by placing a second bet equal to your original bet. You'll then draw additional cards to each hand. You may draw as many cards as you like on each split hand, but you'll receive only one card if you split 2 Aces. If you receive an Ace and a 10-value card in a split hand, it's not Pontoon.
Double Down Rules
If, after you are dealt your first 2 cards, you think that the third card will allow you to beat the dealer's hand, you can double your bet. Another bet (with the same amount as your original bet) is placed on the table and you are dealt one more card. Draw as many cards as you like.
Pontoon Strategy
The correct strategy allows online casino players to lower the house edge to about 0.38%. The optimal strategy card for Playtech's Pontoon game is as follows: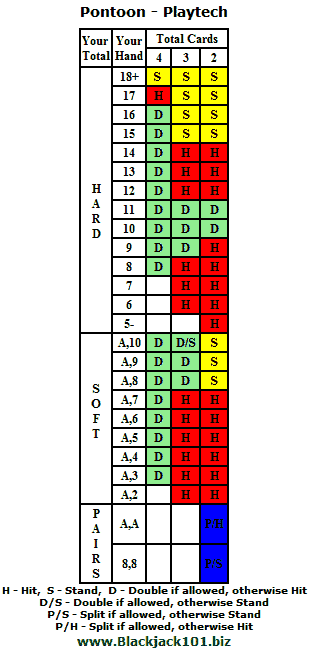 The basic strategy card is shown as a table with the Dealer's card number the first row and player's 2-card combination the second column. The letters tell you what to act (Hit, Stand, Double Down or Split your hand) depending on the different combinations of the hands. The Pontoon strategy table for Playtech's rules is shown above for player's hard totals, soft totals, and pairs along with a legend below the table.
Where to Play?
You can play the Pontoon game at William Hill Vegas - popular International online casino and one of the fastest growing site in Europe due to strong brand, great customer support in 12 languages and localized casino software. William Hill offers you 7 different versions of Playtech blackjack games, like BJ switch, single deck, 21 Duel, 6-Deck, BJ surrender, and pontoon.