OddsOn / Vegas Technology Blackjack
OddsOn Blackjack Games - Reviews
Blackjack is one of the most popular online casino games today and available in dozens of variations. The card game offers ones of the best odds (highest payouts) available at casinos when you keep track of cards in play and use the appropriate, optimal strategy to increase you long term payouts. OddsOn and now Vegas Technology online casinos feature 4 versions of Blackjack tables: European, Perfect Pairs, Progressive and Vegas Strip games (click the links below for complete reviews, optimal strategy cards and preview game screenshots).
OddsOn/ Vegas Technology Blackjack Games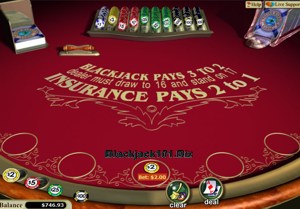 European Blackjack Review. Here the dealer does not receive a hole card at the beginning of the game - the Dealer's second card is delivered following completion of all player's actions. Played with 6 card decks. The dealer stands on soft 17 or higher. A player's Blackjack pays 3:2, winning insurance bet pays 2:1. You may double down on any first 2 cards. You may double down after a split. Split up to 3 times to a total of up to 4 hands. Split aces receive only one card on each Ace; you may not re-split Aces. No surrender. The player may not hit on a soft total of 21.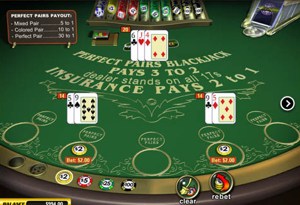 Perfect Pairs Blackjack Review. Based on the hole-card version of Blackjack, Perfect Pairs Blackjack is very similar to the Atlantic City and Vegas blackjack variants with some small changes. There is an optional PP side-bet based on the player's first 2 cards and the popular Surrender option is included. 8 card decks. The dealer stands on all 17. The dealer peeks on 10 value cards and Aces. Bet from $5 to $100 per hand. Player's blackjack pays 3:2. You may double down on any first 2 cards. You may double down after split. You may Split only once. Receive only one card to split Aces.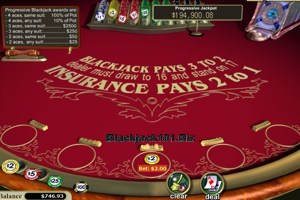 Progressive Blackjack Review. This game has the same rules as the Atlantic City Cryptologic Blackjack but offer optional $1 progressive side bet that can deliver you a huge jackpot payout. 8 decks are used; re-shuffled after each hand. The Dealer must stand on all 17's. The dealer peeks for Blackjack on 10 value cards and Aces. You can double down on any 2 cards. Double down after split is allowed. Only one additional card allowed on each Ace to split a Pair of Aces. No surrender. Minimum progressive jackpot (seed) is $/£/€ 50,000.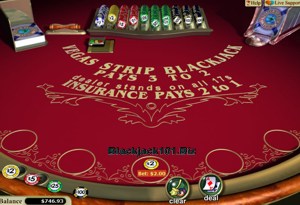 4 Deck Vegas Blackjack. This is an American Hole Card game with 4 regular card decks. The dealer peeks for Blackjack on 10 value cards and Aces. The dealer stands on all 17. Player's Blackjack pays 3:2. Doubling down is allowed on any first 2 cards. Double down after a split. Split once for a total of 2 hands. Split Aces receive only one card on each Ace. Winning insurance bets pay 2:1. The game can be played with 1 to 5 hands at once.
How to Play OddsOn Blackjack
The cards are dealt from a deck of cards called a shoe containing 4, 6 or 8 standard decks (depending on blackjack version) of 52 cards (no jokers) that are re-shuffled after each hand. The Player competes against the dealer and the basic rule of all blackjack games is to get a hand higher than the dealer without going over 21 or making the dealer hand's bust. If the face value of your 2 cards is 21, you have a Blackjack (also called "natural blackjack", e.g. Ace and a face or 10 card). If you have a blackjack or if the dealer's cards are lower than yours you win!

OddsOn's 8 decks blackjack version makes card counting quite impossible. You can try 4 deck European and Progressive games to benefit from card counting but it's almost useless, providing the cards are shuffled after every hand. The default table betting limits are from $2 to $200. The progressive version has the same limites and $1 side bet that can bring you a 5-figure jackpot - at the time of writing this review the progressive jackpot standed at $194,900 level! The house edge becomes negative when the jackpot reach about $180.000, so it's time to hunt for the big one.

Download & Instant Play Blackjack
Players do not need to download and install software as the Flash, instant play version of most online casino games and blackjack games is available at all Vegas Technology casinos.

Vegas Technology casinos offer ones of the biggest player bonuses (up to incredible $5,000 bonus for high rollers), great Players Comp program, big promotions and regular monthly, weekly and daily tournaments.

Blackjack Tournaments - $5,000 Weekly
Tourmanents mania is a new craze and regular big money blackjack tournaments can be played at Vegas Technology/OddsOn casinos. You can play in $5,000 Weekend Blackjack Classic tournament every week from Fri to Sun. The the small fee of just $10 you can win your share of the $5,000 prize pool playing US Blackjack game. Another tournament - The Head2Head is also played on US Blackjack from Mon to Thu and has an entry fee of $5. Your winnings are limited by the Pot. You need to play blackjack with a certain chip balance and get the highest balance on the tournament leaderboard.

Best Strategy Cards
The optimal strategies for all the OddsOn blackjack games allow you to decrease a house edge to under 0.5%. The strategies are calculated based on the game rules and summarized in the printable strategy cards on the corresponding game review pages (see links on the top of the page). See Vegas Strip Blackjack Review.

Where to Play?
Play 4 Vegas Technology/OddsOn online blackjack games at Miami Club (100% match bonus up to $800 free). Miami Club Casino offers Weekly "Blackjack Classic" tournament (Atlantic City Blackjack) where for a $5 fee you'll have a chance to share $750 prize pool. Players from USA are accepted (excluding the following States: New Jersey, Louisiana, Missouri, New York, Kentucky, Washington State and Maryland) but Canadian players are not accepted at this time.