Hi Lo 13 European Blackjack Gold
Hi Lo 13 European Blackjack Gold Series (Microgaming) Rules & Strategy Card - How To Play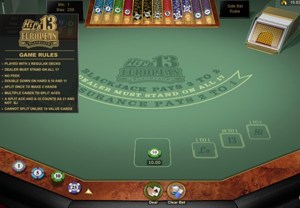 Microgaming online casinos offer 4 different versions of "European" games including Hi Lo 13 European Blackjack Gold that is played with two standard decks of 52 playing cards that are shuffled before each game (hand). In Hi Lo 13 European Blackjack Gold, the table game is based on the European rules but includes an additional (optional) Hi Lo 13 bonus side bet that may bring you additional payoffs.

This is one of the newest addition to Microgaming's premier Gold Series of table games, offering the superb levels of quality players have come to expect from this outstanding series. Based on the well known card game of Over and Under 13, new Hi Lo 13 Blackjack Gold is a single hand, 2 deck card game that allows for a side bet. The dealer stands on all 17 and the no peek rule applies.

Hi Lo 13 Feature
Players can take an extra side bet which is based upon the value of your first 2 cards dealt. Any Ace card is counted as 1 for the side bet. In order to place the Hi Lo 13 bet, you must place a regular Blackjack bet. The following optional bet, each with a 25.00 credits maximum, are available and have the following payout schedule:
Hi - Sum of first two cards will be more than 13 - 1:1
13 - Sum of first two cards will equal 13 - 10:1
Lo - Sum of first two cards will be less than 13 - 1:1
The player may simultaneously place a bet on all 3 side bets if desired. The value of each side bet can be greater or lower than your regular bet.

How to play Hi Lo 13 European Blackjack Gold
The object of Blackjack is to beat the Dealer by either obtaining the highest possible hand without exceeding 21, or by the Dealer's hand going bust. In this version of Blackjack (European), you can only bet one hand at a time. All face cards (Kings, Queens and Jacks) have a value of 10 and the Aces can have a value of 1 or 11. Please refer to the basic blackjack rules to learn more about the game.

General Rules in Brief:
2 card decks
Dealer stands on all 17
You may double after a split
You may only double on hard 9 to 11
No re-splitting (1 split)
Player may draw multiple cards to split Aces
No surrender is allowed
No peek
No hole card (player loses total bet if the dealer has Blackjack)

Splitting Rules
You can split 2 cards that have the same denomination, such as a J-10, or two Sevens. Your hand is divided into 2 separate hands and a bet equal to your original bet is placed on the second hand. If you split a pair of Aces and then draw a card with a value of 10, this is not considered a Blackjack, it has a value of 21. You can split a maximum of once per game, equaling 2 hands.

Double Down Rules
You can double down if the value of your first 2 cards is 9, 10 or 11. The Double Down bet is equal to your original bet. You can only double down once per hand. Double Down after a Split is not allowed.

AutoPlay
The AutoPlay option enables you to automatically play a selected number of hands without clicking buttons on the screen. AutoPlay feature uses the advanced Blackjack Strategy Table that can be modified by the player.

Statistics
Game Statistics ('Stats' button) enable you to view information about your current game session: the number of hands played, the winning combinations, the percentage of winning combos, highest wins, Dealer's Final Hand stats, Starting Hand Comparisons and more info.

Customizable Strategy Table
The Blackjack Advanced Strategy table is used during AutoPlay mode and enables you to define your personal game strategy (Strategy button). The Strategy table is only available in Expert Mode. You can choose options to create your own strategy.

Note: The Default strategy is just a basic strategy table. Modify the strategy table using our European Blackjack Strategy Card below for the best odds.

Insurance
When the dealer is dealt an Ace you are allowed to make an insurance bet, if you wish. The Insurance bet costs half your original bet and pays out 2 : 1 if the dealer gets Blackjack. You lose your original bet in this case. If the dealer does not get Blackjack you lose your insurance bet i.e. just a half of your original bet. Insurance is not recommended in this game.

Gold Series Games
The Blackjack Gold Series represents a range of the ultimate online blackjack games which will appeal to the most discerning blackjack players. The series takes blackjack gambling to new levels in terms of smooth and speedy play, beautifully executed game graphics, digital quality sound effects and music and the valuable player aids, controls and tools resident in the Microgaming's Viper advanced Internet gaming software platform. Outstanding elements include a refined table perspective, precision graphics, enlarged chip tray, an animated chip selector, rollover rules and ambient background music, all enhancing the realism of your favourite blackjack game.

Hi Lo 13 European Blackjack Gold Strategy Card
You should keep the regular optimal blackjack strategy for the European rules in order to decrease the house edge to 0.42%. Optional side bet has much higher house edge and can be used for adding some action or/and in a betting system.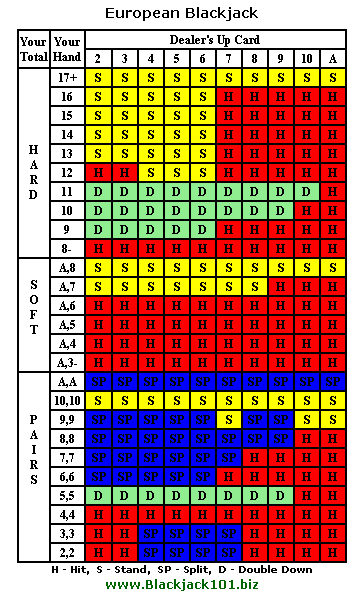 Blackjack strategy is printed as table with the dealer's up card the first row and player's 2 card combination the second column. The entries in the table tell you whether you should Hit, Stand, Double Down or Split depending on the different combinations of dealer and player's hands. Optimal Hi Lo 13 European Blackjack Gold strategy tables for Microgaming casinos rules are shown above for hard totals, soft totals, and player's pairs for the regular blackjack game.


Today Microgaming casinos offer over 25 different versions of Blackjack including: Vegas Downtown, Vegas Strip, Atlantic City Blackjack, Bonus Blackjack Gold, European, Spanish 21, Double Exposure, Triple Sevens progressive blackjack plus Multi-Hand and Gold Series versions of the games (follow Microgaming menu links to find rules & strategy cards for other games).

We recommend playing Hi Lo 13 European Blackjack at Spin Casino - click for your $1,000 welcome bonus.