EUROPEAN BLACKJACK (Cryptologic)
Cryptologic's European Blackjack Rules & Strategy Card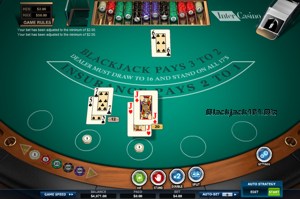 Blackjack is one of the most popular and well known casino game of skill and luck between a player and the Dealer. Cryptologic-powered online casinos offer new European Blackjack variant played with 6 standard card decks of 52 playing cards that are shuffled before each game. In the European Blackjack, the Dealer does not receive a hole card on the initial phase of the game round. The Dealer's second card is delivered following completion of all player hand actions. Liberal split and double down rules are included to ensure an exciting online gaming experience. Rules for the game and available features are provided below to make the game easier and more enjoyable to play.

How to Play European Blackjack Game
The object of Blackjack is to beat the score of the Dealer without exceeding a total of 21, or by the Dealer's hand going bust. In this version of Blackjack (European), you can bet one to five hands at a time. All face cards are valued at 10 and the cards from 2-10 are valued as indicated. Aces can be valued at either 1 or 11; if counting the Ace as 11 would put the hand over twenty-one, the Ace is automatically counted as 1 instead. It's always assumed you have the value that makes the best hand. The value of a hand is the sum of the values of the individual cards.

General Rules in Brief:
6 card decks
Play 1 to 5 hands
The dealer stands on soft 17 or higher
A player blackjack (e.g. A-10) pays 3:2
Winning insurance bets pay 2:1
You may double down on any first 2 cards
You may double down after a split
You may split up to 3 times
Split aces receive only one card on each ace; you may not re-split aces
No surrender is allowed
The player may not hit on a soft total of 21.
A winning player blackjack (an Ace and 10-value card on the initial deal) pays 3:2, while all other winning hands pay 1:1. Insurance is limited to 1/2 of the wager per hand. Like-value cards that are not identical may not be split (e.g. Q-J or K-Q cannot be split). An ace and a 10-value card following a split does not constitute blackjack for the player. If you are playing more than one hand, the 1st hand to be acted on is the one farthest to the right of the screen.

Settings
Many exciting and helpful features are added to blackjack to enhance your gameplay. There are 3 game speeds available to suit the needs of all players. The default speed is the middle one, providing a smooth game playing experience with rich audio. Game settings for insurance bets and for player the protection hand warning system can also be adjusted.

Split
If you have 2 cards that are the same, the Split button will be active. You can split your cards into 2 hands and play each hand separately. An extra bet equal to your original bet will be made for the new hand. Each hand will be played out as usual except when splitting Aces, where only one additional card per each hand is dealt. Any winning 21 obtained after splitting a pair is paid 1:1. A maximum of 3 splits (creating four hands) is allowed.

Double
If you select the 'Double' option: you will get exactly one more card, your turn will end, and your original bet will be doubled.

Autostrategy and Auto-Betting
European Blackjack game contains an autostrategy feature. Selecting autostrategy from the interface allows players to instruct the game to play a selected number of rounds automatically based on the optimum strategy. Additionally, you may customize and save any of the hit/stand/split/double decisions on the table to match your own playing style (only apply to the bet limit you are currently playing).

Insurance
Whenever the Dealer's up-card is an Ace, you have the option to take insurance. If you believe that the dealer will draw a 10-value card for Blackjack, place a side bet of half the original wager. If the dealer draws a 10-value card, the payout is 2:1 on the insurance bet. If the dealer does not get Blackjack you lose your insurance bet i.e. just 1/2 of your original bet.

European Blackjack Strategy Card
Insurance is not recommended in European blackjack version. When the dealer is dealt an Ace you are allowed to make an insurance bet, if you wish. You may, in the game options section, instruct the system to always decline insurance.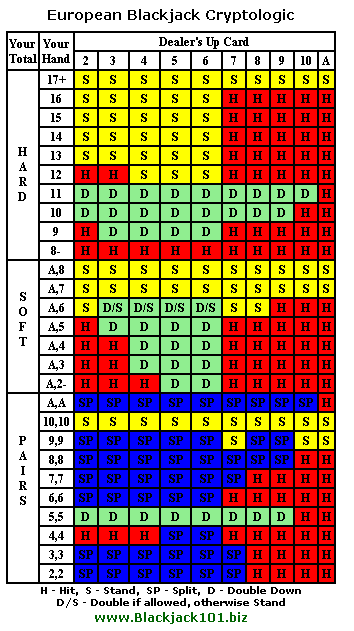 Blackjack strategy is printed as table with the dealer's up card the first row and player's 2 card combination the 2nd column. The entries in the table tell you whether you should Hit, Stand, Double Down or Split depending on the different combinations of the dealer's and player's hands. Optimal European Blackjack strategy tables for Cryptologic casinos game rules are shown above for hard totals, soft totals, and player's pairs.

Cryptologic casinos offer 9 different blackjack games including single deck, single- and multi-player, multihand, multi-split and progressive blackjack. Play European blackjack at Magic Red Casino (£/€/$200 table games welcome bonus).

You may also see review of the European 2 Deck Blackjack or European BJ games from Microgaming, Playtech, and other software providers (move over the menu links on top).