Blackjack +3 GameSys Game
Blackjack Plus Three Rules, Tips & Strategy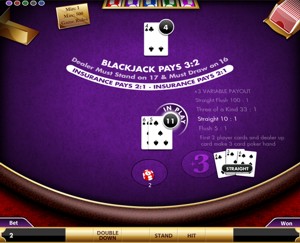 Jackpotjoy's Blackjack +3 is a new single hand, single player blackjack card game that offers you an extra chance to win with an optional bonus side bet that can bring you a payout up to 100:1! Players can choose bets from £1 to £500 per hand.

In Blackjack +3 you are playing against the dealer, but with the chance of winning big by placing the +3 Side Bet. If you thought the most exciting card game in the world just couldn't get any better, think again and welcome to the world of Blackjack +3 from Jackpotjoy online casino.

Dealer's Rules
Dealer must draw to 16 and stand on all 17's. This includes soft values where an Ace can be counted as an 11 value. Insurance Bets are offered when the Dealer's face up card is an Ace as this is a No hole card game.

Blackjack +3 General Rules in Brief:
Single deck
One bet position
Dealer stands on soft 17
Double down on 9 to 11 only (receive one card only)
No doubling down after splitting
No re-splitting
No Blackjacks after Splitting
No surrender
No hole card
Insurance not resolved until end of hand
How to Play
There are 2 ways to bet with Blackjack +3. You can place a normal Blackjack bet within the central betting area and to the right of that is a +3 betting space where you can bet against the pay table as printed above it. You can bet up to £100 in the +3 side betting area, or bet a total of £500 in both. Chips are valued at £1, £5, £25, £100 and £500 to manage smaller bets.

How to Win with the +3 bet
Your first chance to win comes as soon as you and the dealer receive your cards. You're dealt 2 cards face up and the dealer receives one. Imagine those 3 upcards are a hand and then compare to the pay table below to find out if you've won. Qualifying hands are defined as follows:

Blackjack +3 Side Bet Paytable
Straight Flush 100:1
3 of a Kind 33:1
Straight 10:1
Flush 5:1

Once you've received any winnings from the +3 Paytable, you'll go on to play Blackjack just as normal. Prior to dealing, you can click Change Side Bet button to play on the fixed rate paytable, which pays all the above mentioned hands at 10:1.

Three Card Paytable Rules
To place an optional +3 Side Bet you must place a Blackjack bet as well. +3 bet pays out only based on the first 3 cards dealt face up - two to the player and one to the dealer. Winning hands are as follows:

Straight Flush: (pays 100:1) 3 cards of consecutive rank, all of the same suit. For example, 6-7-8 of Hearts.
Three of a Kind: (pays 33:1) 3 cards with the same rank of mixed suits.
Straight: pays 10:1) 3 cards of consecutive rank of mixed suits. Ace can be high (as in Q-K-A) or low (as in A-2-3).
Flush: (pays 5:1) 3 cards of the same suit.

How to Win Blackjack
The winning hand in blackjack is the hand that totals closest to 21 or any other hand when the dealer's hand bust. You can make 21 up from any number of cards, though a picture card and anAce, known as Blackjack, will beat other card combinations. Picture cards count as 10, numbered cards count as they appear and Aces could be 1 or 11, depending on what benefits you hand. If your cards have the same value as the dealer's you'll receive your bet back, unless one hand contains an ace and a picture card, in which case it wins.

Splitting
If you receive 2 cards of the same value you can Split your hand. This means one pair is divided into 2 separate hands. When splitting you must place the same wagers on both hands and then play each card as though it were a hand. You can't split a picture card and a 10, though they have the same value. If you split a pair of aces and then draw a picture card, it's not counted as Blackjack.

Doubling Down
You can double your original bet, after you've looked at your first 2 cards. After doubling, you may draw only one more card. You can only Double Down if the value of your initial two cards is 9, 10 or 11 - and doesn't include an Ace. If you opt to double and win you'll be paid out an amount double your original bet. If the dealer gets Blackjack after you've split or doubled, all your bets, both original and double or split amounts, are lost.

Insurance
If the dealer's first card is an Ace, you can safeguard your hand against the possibility that the dealer has Blackjack, by opting for insurance. The insurance bet costs half your original bet but if the dealer does have Blackjack, your insurance will pay out at 2:1 though you will lose your original wager. If the dealer doesn't have Blackjack, you'll lose the insurance bet though you can continue the play based on your original bet. Insurance only covers your original wager; it does not cover any "Double Down" bet.

+3 Side Bet Odds
The side bet is, in fact, a separate game-within-a-game with its own fixed house edge that is higher then a base game's house edge. You cannot increase your long term payouts for +3 side bets with a working strategy, although you can use a betting system to add the fun and exciting to your blackjack gaming experience.

Where to Play?
Play Blackjack +3 at VirginGames or Jackpotjoy. Note: U.S. Players are not accepted. Jackpotjoy is UK's leading destination for instant jackpots and bingo games. You can play 1p or 10p bingo games as well as dozens of no download casino games from various slots to roulette or 3 blackjack games.