4 Deck Vegas Blackjack - Amaya (Cryptologic)
4 Deck Vegas Blackjack Review & Strategy Card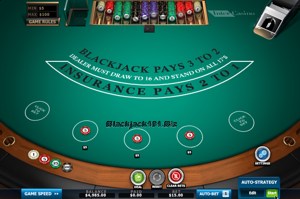 In this version of Vegas Blackjack the dealer receives a second card (a hole card) before the players complete their own hands. This MagicRed Casino's blackjack game can be played with 1 to 5 hands at once. 4 Deck Vegas Blackjack is played with 4 regular decks of 52 cards that are shuffled after each game. You can play in different modes with bets from $5-$100 to $500-$5,000, so the minimum bet is $5.

The object of the 4 Deck Vegas Blackjack game is to beat the value of the dealer's hand without exceeding a total of 21. All face cards are valued at 10 and the cards from 2-10 are valued as indicated. Aces can be valued at either 1 or 11, whichever is better for the player/dealer. Cryptologic's Vegas blackjack rules are the same as the standard in Atlantic City with the exception that only one split is allowed.
4 Deck Vegas Blackjack Rules in Brief:
4 Decks of 52-cards
Dealer stands on all 17's
Player's Blackjack pays 3:2
Doubling allowed on any first 2 cards
Doubling after splitting is allowed
Split once for a total of 2 hands max
Split Aces receive only one card on each Ace
Dealer checks hole card for Blackjack
Winning insurance bets pay 2:1
No surrender
When the dealer's face-up card is a ten or an Ace he peaks under the face-down card to tell you if he has a Blackjack. There is no surrender offered in this game.

Splitting
If you have 2 cards that are the same, the Split option will be allowed. You can split your cards into 2 hands and play each hand separately. An additional bet equal to your original bet will be placed for the new hand. The hands will be played out as usual except when splitting Aces, where only one additional card per hand is dealt. You can not re-split aces. Any winning 21 obtained after splitting a pair is not considered as Blackjack and it's paid 1:1. A maximum of one split for a total of 2 hands is allowed.

Double Down
Doubling down is allowed on any first 2 cards and you even can double down after you split pairs which is better than what land based casinos usually offer for players. If you select this option, you will get exactly one more card, your turn will end, and your bet will be doubled.

Insurance
Whenever the dealer's up-card is an Ace, you have the option to take insurance. If you believe that the dealer will draw a 10-value card for Blackjack, place a side bet of half the original wager as insurance. If the dealer does draw a 10-value card, the payout is 2:1 on the insurance bet. Insurance is not recommended in this game if you want to get the highest odds, so you may, in the game options section, set to always decline insurance.

Insurance on a Player Blackjack
If you have Blackjack and the dealer is showing an Ace, you may select the 'even money' bet option. This will immediately pay you 1:1 odds on your blackjack, regardless of the final outcome of the dealer's hand. Since the result of insuring a blackjack is the same regardless of the outcome, the money is paid right away and game round is finished. Not recommended.
4 Deck Vegas Blackjack Strategy Card
The basic strategy listed below is calculated based on the Cryptologic game rules above and allows you to reach the house edge of about 0.34%. It's the same as the strategy for a 8 deck game.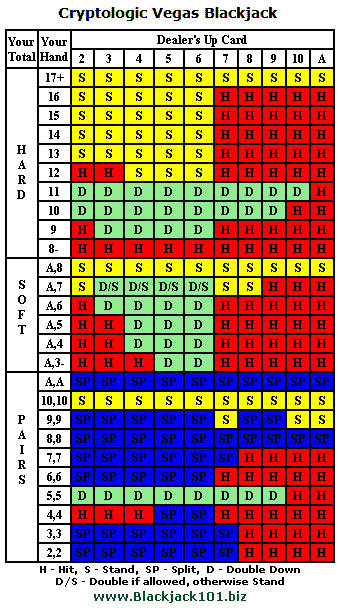 The strategy is shown as table with the dealer's up card in the first row and player's 2 card combination in the second column. The entries in the table tell you what to do (Hit, Stand, Double Down or Split) depending on the combinations of dealer's and player's hands. Optimal strategy tables for 4 Decks Cryprologic game rules are shown above for player's hard totals, soft totals, and pairs.
9 Different Games
Cryptologic-powered online casinos now offer several versions of blackjack tables including Single Deck, 4 Deck Vegas Blackjack, European, Euro Double Deck, Perfect Pairs and Atlantic City, Pontoon, Spanish 21 and Progressive Blackjack games.
Where to Play?
Play Vegas blackjack game at the following recommended online casino with over 11 years history and numerous players' awards. New players enjoy $250 (100% match) welcome bonus offer plus monthly deposit bonuses up to $100 free each and every month. Click the link below to download free online gaming software and play for practice of for real money at recently updated InterCasino:

Back to Cryptologic Game Reviews >>
You may also see reviews of the Vegas Strip & Downtown Blackjack games from Microgaming, Playtech, RTG and other software providers (move over the menu links on the top of the page).