Progressive Blackjack Of OddsOn / Vegas Technology
Progressive Blackjack Rules, Tips & Strategy Card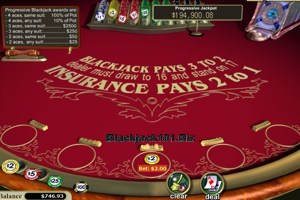 Progressive version can offer you the best odds (average percentages of return) available at online blackjack table games, just because you can turn the odds on progressive side bet in your favour. The lowest house edge can be achieved by keeping track of cards on the table and using the appropriate and optimal strategy. OddsOn/Vegas Technology powered online casinos offer the Progressive version of Blackjack that is played according to the European Blackjack rules. The game is played on a table with 5 playing positions and wagers are placed in the circles provided. Cards are dealt from a shoe containing 4 standard decks of 52 playing cards each (no jokers), re-shuffled after each hand.

Your basic goal of this game is getting a hand higher than the dealer without going over 21 OR making the dealer hand's bust. If the face value of your cards is a Blackjack ("natural blackjack", for example Ace and a face card), or if the dealer's cards are lower than yours - your hand wins!

General Rules in Brief:
4 card decks
Betting limits: $2 to $200 per hand
The dealer stands on all 17 or higher
Fixed Progressive Side Bet of $1
Multi Hand - Play up to 5 hands at once
Progressive Bet wins from $25 for 2 Aces to 100% of pot for 4 suited Aces.
Player's blackjack (e.g. A-10) pays 3:2
Dealer's blackjack always win
Winning insurance bets pay 2:1
You may double down on 9 to 11 only
No doubling down after splitting
No re-splitting is allowed
You may not draw to split Aces
No surrender is allowed

In Progressive Blackjack, a player may place an extra $1 bet on each hand, and win a specific portion of the current jackpot based on the progressive jackpot payout table. When a hand splits, it is still the first 2 cards dealt, but not to each split hand separately.

Play up to 5 Hands at Once
There are 5 playing positions you can choose from and you can play up to 5 hands of Progressive Blackjack at the same time (optional). Each hand played is a separate bet against the dealer.

How to play Progressive Blackjack game
When starting the Progressive Blackjack game you have to place your coin(s) on the table and click on the DEAL button. You decide how much you want to wager and how many hands to play. After placing your bet(s) you can choose to make a progressive $1 bet on any hand played - just click on the Progressive Bet Slot while it flashes.

2 cards are dealt at each player position that has a wager and 2 cards are given to the dealer, one of them face up. You are allowed to Hit or Stand, and when applicable you are able to SPLIT, DOUBLE, or buy INSURANCE. If possible you have to decide to SPLIT or DOUBLE before choosing to HIT or STAND.

If your dealt hand contains an Ace and a 10 or a face card then you have a Blackjack, also called a "Natural Blackjack", and play is automatically moved to the next available hand. If the value of your cards exceeds 21 then you have gone BUST and have lost this hand. When your hand is completed the dealer's hand is played out. Once the dealer's hand is complete, your hand is compared to the dealer's hand to determine the winner(s).

Split
If you have 2 cards that are the same (a Pair), the Split button will be active. You can choose to split your original single hand into 2 separate hands. In this case a second wager will be placed automatically equal to your original bet and you are dealt a second card for each new hand. Note: If you purchase Insurance and then Split your hand, the hand will no longer be covered by Insurance. If you split Aces you will receive only 1 more card to complete your hand and if the second card is a 10-value card it is not considered as a Blackjack. No extra splitting is allowed.

Double
The 'Double' option is only available if your first 2 cards dealt total 9, 10 or 11. The 'Double' button doubles your original bet and you receive only 1 more card to complete your hand. The 'Double' button is not available on hands that have been Split.

Insurance
Whenever the Dealer's up-card is an Ace, you have the option to take insurance if you think the dealer may have a blackjack. The cost of insurance is half your original wager and pays out 2:1 if the dealer does get a blackjack. If you purchases Insurance and then Doubles your hand, only the initial bet is doubled. No Insurance after splitting is allowed. Insurance is not recommended in Progressive European blackjack version as you may see on the strategy card below.

Progressive Jackpot Paytable
For each hand played, there is a $2.00 minimum bet on each hand, a $200.00 maximum limit on each hand PLUS optional $1 progressive side bet that can bring you the following cash payouts:

• 4 aces, same suit: 100% of pot
• 4 aces, any suit: 10% of pot
• 3 aces, same suit: $2500
• 3 aces, any suit: $250
• 2 aces, same suit: $50
• 2 aces, any suit: $25

Cards must also be consecutive starting from the very first card being dealt. The minimum progressive jackpot is $10,000.00 but it quickly grows to higher levels.

Turn the Odds in Your Favour!
At the time of writing this review the progressive jackpot standed at $194,900! The odds of the progressive blackjack games can be separated to the "main game" odds and "progressive bet" odds. The "main game" odds are fixed and depend on your basic strategy for the game. "Progressive odds" can be very bad for players when the jackpot is rather small (about huge 67% on the lowest levels) but turn positive for players when the jackpot reaches a certain level. In the Progressive European Blackjack game the house edge disappears when the jackpot reaches about $180.000. From this level you have a positive expected return on your side bet.

Progressive European Blackjack Strategy Card
We have calculated the optimal basic strategy for these rules that can decrease the house edge for the base game to just 0.73%.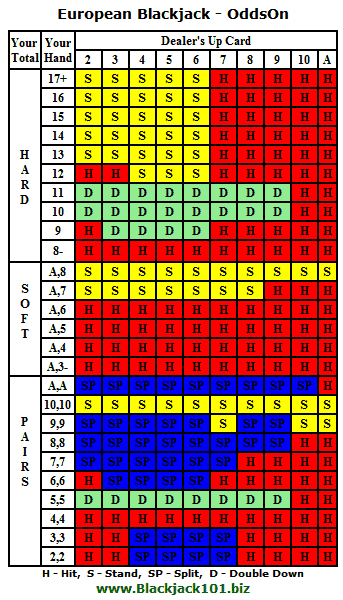 The Blackjack strategy is printed as table with the dealer's up card the first row and player's two card combination the the second column. The entries in the table tell you whether you should Hit, Stand, Double Down or Split your hand depending on the different combinations of the dealer's and player's hands. Optimal Progressive Blackjack strategy tables for OddsOn/Vegas Tech. online casinos game rules are shown above for hard totals, soft totals, and player's pairs.

For the best odds in European Progressive Blackjack you should use the strategy card above and make progressive side bets when the jackpot is rather big (over 6-8 seeds at least).

OddsOn/Vegas Technology casinos offer 4 different blackjack including European, Perfect Pairs, Progressive and Vegas Strip tables. Play Progressive blackjack at Miami Club (100% match up to $800 signup bonus). Players from USA are accepted (excluding several States) but Canadian players are not accepted.